Q. What happens about my Annual Pass while you are closed due to COVID?
A. Peak and Off-peak passes will be paused during this closure and the amount of time we are closed will be added to your pass.
Q. What about my Direct Debit while you are closed due to COVID?
A. Direct debit passes are currently on hold, we will contact you when these are due to be reactivated.
Q. What happens about pre-booked sessions and activity sessions?
A. Please call your local centre on or after the 17th May to re-arrange any outstanding tickets or activity sessions.
Q. When can I use the free ticket I got at Halloween?
A. If you visited us at Halloween and received a free return ticket you can use these tickets from 17th May until 12th July (excluding half term). We are unable to book you in for a visit so admission will be subject to the capacity when you arrive at the centre. If you are looking at visiting at a weekend or in the holidays, to avoid disappointment we recommend avoiding the late morning and early afternoon as this is our busy period. If you have any other family members in your party they will have to book tickets on our website before your visit.
Q. I have a voucher, will it be extended?
A. Many of you will have received a free return visit voucher after attending our Halloween event, these vouchers will be extended and valid until 12th July 2021.
 Vouchers that have expired this year will be valid until 12th July 2021.
 All other none date specific vouchers will be accepted as normal when we reopen.
 If the situation changes in the mean time these dates maybe subject to change or further extension, we will keep you updated on any changes.
Q. What safety measures are in place for COVID-19?
A. We politely request that you refrain from visiting 360 Play should you start displaying any of the symptoms associated with COVID-19. 
The main symptoms of coronavirus are:
a high temperature – this means you feel hot to touch on your chest or back (you do not need to measure your temperature)
a new, continuous cough – this means coughing a lot for more than an hour, or 3 or more coughing episodes in 24 hours (if you usually have a cough, it may be worse than usual)
a loss or change to your sense of smell or taste – this means you've noticed you cannot smell or taste anything, or things smell or taste different to normal
Please contact our bookings department on 01908 670160 or email bookings@360play.co.uk should you need to amend your booking.
To support the health and safety of guests and staff during the COVID-19 (coronavirus) pandemic 360 Play will be using non-contact thermometers to screen the temperature of each guest and employee before they enter. Guests who do not wish to undergo the temperature screening or who have a raised temperature of [37.8°C or above], along with their household group, will not be permitted entry but will be offered a full refund of the admission price of their ticket. No record of the temperature will be retained and the data will not be used for any other purpose.
We ask you to observe the following: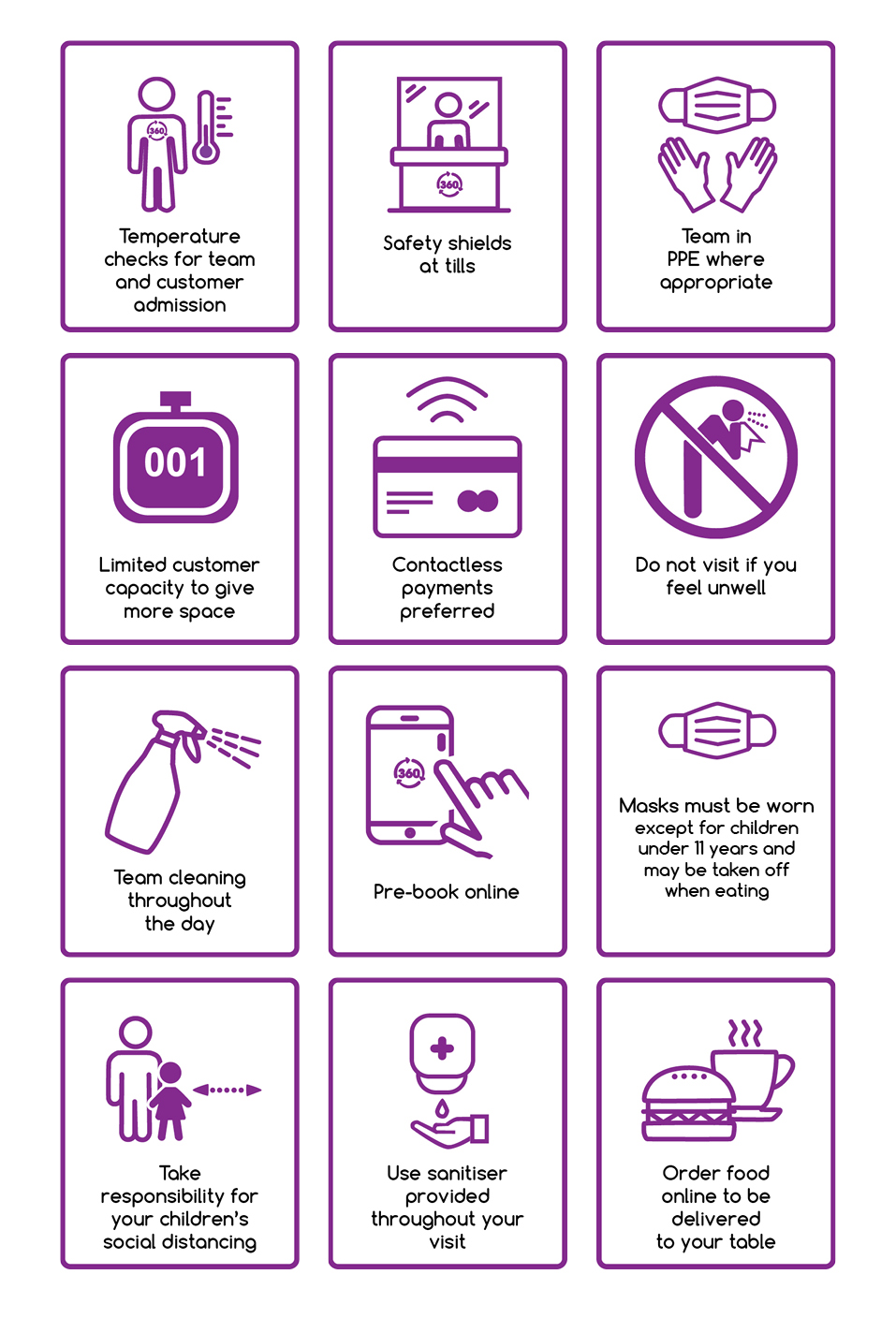 We are also using specialised cleaning products – find out more
Q. Do I need to wear a face covering?
A. From the 8th August 2020 it will become mandatory for visitors to indoor settings to wear a face covering, click here to find out more
Q. What are the opening times?
A. We are running pre-bookable sessions during the COVID-19 outbreak, with staggered arrival times to avoid queues.
Bookable sessions start from 9.30am.
See your local centre's page for full details.
All sessions must be pre-booked online before your visit.
Q. Why does 360 charge for adults?
A. We charge for adults as we have strict guidelines on our capacity levels within each Centre.  This allows us to provide a comfortable and safe environment for all customers. Adults are encouraged to use the facilities whilst supervising their children.

Q. Why do I have to complete a registration form and why do you need my full details?
As previously mentioned we take the security of your children very seriously. Full registration also enables us to sign each family in and out of the centre safely through our controlled gates.
Q. Does 360 run play sessions?
A. We are running the following pre-bookable sessions during the COVID-19 outbreak:
9.30am – 11.30am
12.30pm – 2.30pm
3.00pm – 5.30pm
All sessions must be pre-booked online before your visit.
If capacity allows, you will be able to stay and play for longer.
Q. Is there an age restriction?
A. 360 Play is suitable for 0-12 year old children.  Older children are welcome to help supervise younger siblings.  13 years and over will be charged the adult rate.  Please note there are height restrictions on our rides which are clearly signed at each ride along with any other safety information. Please do take time to read the information provided and explain any relevant information to younger members of your party to avoid any disappointments.
Q. Can I bring guests?
A. At the moment the regulations state that you can only socialise with with a maximum group of 6.
Q. Who supervises the children?
Parents/guardians must supervise their children at all times.  Please inform your older children of the basic rule of play to ensure a comfortable and safe visit for all.  Please pay specific attention to ensuring older children do not play in the dedicated toddler areas.  These are clearly labelled.  The 360 Play team are around to help make your visit enjoyable and operate all rides!  Adults are not permitted to leave the centre whilst their children are playing.  One adult (per family group), who is 18 years or over must be present in the centre at all times.
Q. Do you have a behaviour policy?
Yes!  Although we totally understand children love to have fun in all sorts of ways we operate the following.  Any child who behaves in an aggressive manner or continually breaks the rules of play will be brought to their parents by a member of the 360 Play team who will explain the issue.   We operate a 3-strike rule.  If a child is brought back to their parents 3 times the family will be asked to leave.  This is to ensure the safety of all children.  Any abusive behaviour will not be tolerated and may result in a ban from 360 Play Centres.  We are here to have fun in a safe environment. Please speak to a Duty Manager if you have any further questions.
Q. What clothing should the children wear?
Comfortable clothes, ideally long sleeved and long legged, should be worn to 360 Play.  Socks MUST be worn at all times on the play-frames by children and adults.   Please note the dodgem track will blacken white socks due to the nature of the track.  This does wash out but we advise dark socks to be worn. Trousers are preferable for the climbing wall.  Only closed toe shoes may also be worn on the climbing wall.  Please remove all jewellery and items from pockets too!
Q. Can we bring a picnic?
We operate a café in every centre, which caters for a wide range of dietary requirements.  We offer healthy options as well as treats for the children.  We have a menu for adults too.  As a result we do not allow food or drink that is not purchased in the centre to be consumed.  Please note any food that is not purchased at 360 Play will be removed.  If you have any questions on this please contact the duty manager at each centre.
Q. What are the rules of play?
Q. Why do our socks get dirty?
A. Socks can get dirty from the carbon generated by the dodgem track.
We recommend you wear dark coloured socks or put your shoes on when visiting the dodgems.
Q. Do you accept Tesco vouchers?
A. Unfortunately, at this time we cannot take Tesco vouchers as payment.
Due to COVID-19 restrictions we are NOT able to provide the great 360 Children's Birthday Parties at this time.
When we can hold parties again the questions below apply:
Q. Do you have to be registered to have a party at 360 Play?
A. Yes, but if you book a party with us registration is free!
Q. Can I have my party at any time?
A. Each centre operates designated party time slots.  Please log onto our website and follow the 'book a party' instructions to see those available or contact the centre.
Q. What is the duration of each party?
Each party lasts 2 hours. This encompasses 80 minutes of play and 40 minutes of party feast and extra fun in your party area.   Details can be found by clicking here.
Q. Is there a meeting area when we arrive?
Your party host will take you to a party holding area when you arrive. Parents and close family use this area as a base while the party is in full swing – this means the party room/area is kept as clear as possible. Please arrive no more than 15 minutes prior to the start time of your party to meet with your party host.
Q. What is the role of my Party Host?
Your Party Host is the key point of contact for the party. They will help to remove children's shoes, issue the coloured wristbands to every child within the party and help to get the party started! Please note that children remain the responsibility of the party parents at all times, as do all personal belongings.  Any children arriving late will be shown to the party holding area to join in.
Q. Do adults pay an admission fee?
A. We offer 4 FREE adults for the first 10 children and then 1 extra free adult for every further 4 children. For each child 3 years or under, an additional free adult is added to the ratio. All other adults are charged at £2.50. Please note that during some of our peak times (mainly weekends) there will not be seating in your party area for all your adult guests. There will be additional available seating within the centre.
Q. Do I get a refund if children do not attend on the day?
A. Unfortunately once numbers are confirmed we will not provide a refund for any no shows on the day. However we will issue vouchers for 1 adult and 1 child.
Q. Do I have to pay for children less than 12 months?
Children under 12 months are free but they won't have a seat at the party table.
Q. What about siblings?
If your party guests want to bring siblings who are separate from the party, then the usual play admission prices apply.  At point of final payment we will ask you if you would like to pay for siblings or ask the parents too.  The choice is yours.  If you have any questions our Central Party Bookings team are here to help.
Q. What if the party children and parents forgot socks?
We sell socks at each site. You may wish to put a couple of spare pairs in your bag, especially in summer.
Q. Can I come in 30 minutes before the party to decorate the area?
Unfortunately no, our party rooms are in constant use throughout the day and have a very limited turnaround time. However do speak to your party host on the day as it is sometimes possible to enter the room just before the food is served.
Q. How early can my party guests come in?
5 minutes before the party time. Usually we allow the birthday family to arrive first and settle down before receiving their guests.
Q. Can I have my own characters or entertainers?
If you wish to bring external companies in as Characters or for Face Painting for example, this needs to be arranged in advance so we can check their credentials.
Q. What are the Party Terms and Conditions?
A. The party T&Cs can be read here