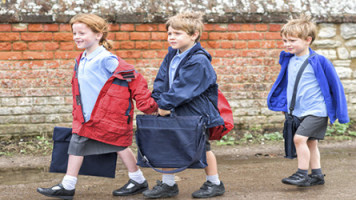 Should you let your child walk to school?
Does your young child walk to primary school? Or do you take them in the car, day in, day out, even if the school is only a short distance away from home?
It's a subject that is regularly discussed and we heard an item on the radio recently which looked at why so few primary school children these days walk to school. There were arguments for and against, but to be honest, those against were not that convincing.
The overwhelming reason parents don't let their young children walk to and from school is one of safety, be it a fear of them being abducted or involved in a road accident. Yet statistics show that there is very little chance of this happening. Of course, any such incident is tragic but because it is so rare, if it does happen, it makes headline news and naturally makes us all think twice. After all, we're only human.
Walk-to-school campaigners believe that half the parents driving their children to primary schools live under a mile away from their destination. Now to be brutally honest, that's just ridiculous! Okay, there are no doubt some days when taking the car is necessary – maybe it's pouring down or your little one has something quite heavy or bulky to take in or perhaps even an injury of some kind which necessitates the use of the car – but on most occasions walking would be quite possible.
Of course, very young children can't be expected to walk to school on their own so mum or dad will obviously have to go with them. But when they are eight or nine, and having hopefully learnt the rules of the road by then, they should be perfectly fine to go with friends or a friend. This will allow them time to socialise while also giving them some of the vital physical activity they need for a healthier life style – something we fully support at 360 Play and which is reflected in the physical activities we provide in our centres. And it will have the added benefit of ensuring that when they arrive each morning they are refreshed, alert and ready for a day's learning.
There are a variety of associated negatives too about driving just a short distance to school – the chaos at the school gate, the good chance that you'll have to park a distance away and walk anyway and the fact that such short journeys are quite literally bad for your vehicle.
There is a tendency to give children much less credit than we should for what they are capable of and these days we seem to mollycoddle them a lot more than in previous generations. So why not change that, teach them the safe way to walk to school and when they are ready, let them be on their way!
https://360play.co.uk/wp-content/uploads/2016/05/Going-to-school-WEB-e1464022733293.jpg
200
356
Jane White
https://360play.co.uk/wp-content/uploads/2018/07/360play-logo-wide-07-2018.jpg
Jane White
2016-05-23 17:03:42
2016-05-23 17:03:42
Should you let your child walk to school?